Constance Belle Mare Plage
Our Opinion
Belle Mare Plage overlooks a tranquil stretch of beach protected by an offshore coral reef making it a popular place for watersports enthusiasts. Add to this the Legends and Links golf courses and you have the perfect resort if you want plenty of activity on your holiday. Highly recommended.
For any further information, do not hesitate to contact us.
Please note - The MCB Tour Championship 2018 will be taking place at Constance Belle Mare Plage between 3-10 December 2018. Tee Times during this period for guests not participating in the tournament will be restricted on both the Legends and Links course. Please contact us for more details
All Inclusive
Dining Options
Family Rooms
Golf
Kids Club
How Our Clients Rate Constance Belle Mare Plage
Feedback Criteria
Average Rating
'Soul'
TA WIDGET
Special Offers
2017-18 30% Discount Seasonal Early Booking Offer
2018 40% Discount Summer Early Booking Offer
2018 Children Special Offer - One Child Stays Free
2018 Children Special Offer - Two Kids Stay Free
Children Separate Room 10% Discount
2017-18 Honeymoon & Anniversary Offer - 30% Room Discount
2018 Summer Honeymoon & Anniversary Offer - 20% Villa Discount
2017-18 Honeymoon & Anniversary Benefits
2017-18 15% Discount Seasonal Offer
2018 20% Discount Summer Offer
2018 Summer Meal Plan Upgrade Offer
2017-18 Honeymoon & Anniversary Offer - 15% Villa Discount
2018 Summer Honeymoon & Anniversary Offer - 40% Room Discount
Summary
Situated along the most beautiful beach on the island, the resort offers an extensive array of amenities with two 18 hole Championship Golf Courses.

Resort is situated directly on a 2km long white sandy beach and set in tropical gardens of almost 15 hectares. The beach has a protected offshore reef making it ideal for water sports,
swimming and snorkelling.

The resort offers a comprehensive all inclusive package option, please contact us for the most up to date details.

The Clubhouse of the Legend 18-hole Championship Golf Course including a Gold Academy with Marc Farry-Hugh Baiocchi method. A second Clubhouse is located 5 minutes away (free shuttle) at the Links 18 hole Championship Golf Course.



Dress Code Notification:

From 01 May Constance Hotels shall adopt a "Resort Chic" dress code at all hotel restaurants (excluding the fine dining restaurants). What does this mean?

During the Day: Shorts, T-Shirts or polo shirts with footwear are permitted in all the restaurants, Swimwear must be covered at all times.

Evening: Trousers and elegant closed shoes for men and evening attire for women in all restaurants except at the Indigo and LAKAZE restaurants (tailored shorts, Bermuda shorts, collared shirts and closed shoes are permitted)

Please note the resort can change these policies at any time and without warning.





Sample Packages
Travel Period:
08/05/2018 - 31/08/2018
From per person
Subject to availability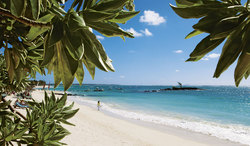 Unlimited Free Golf!!
Quoted prices include stated offers and discounts, are indicative and can fluctuate. Please contact us for latest prices.